De Soto's discovery of the Mississippi, 1541
A primary source by Johnson, Fry & Co.
View this item in the Collection.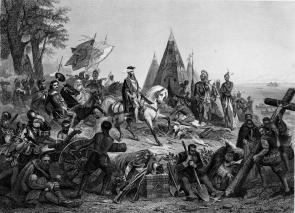 In 1539, Hernando de Soto led the first major European expedition into the interior of the southeastern North America, an area then known as "La Florida." De Soto landed near Tampa Bay, Florida, with more than 600 men, and hoped to find riches in North America like the gold and silver other Spanish explorers had discovered in Central and South America. De Soto and his men explored the present area of Florida, Georgia, the Carolinas, Tennessee, Alabama, Mississippi, and Arkansas, often clashing with native tribes. In spring 1542, de Soto died of a fever. His men attempted to find a land route through Texas to Mexico but were forced to turn back by dwindling supplies.
In June 1543, they sailed down the Mississippi River in seven boats, which sailed into the Gulf of Mexico six weeks later with 311 surviving Spaniards and an unknown number of Indian slaves.
This engraving depicts Hernando de Soto's discovery of the Mississippi River at a point below Natchez on May 8, 1541. De Soto (1500–1542) was the first European to document the river. The image shows him and his men approaching the river and a group of Native Americans camped there. At the center, de Soto, riding a white horse, moves toward the American Indians, who watch in front of their tepees. A chief holds out a peace pipe to de Soto. In the darker foreground are pictured men with weapons, armor, and cannon. A monk prays as men set a crucifix in the ground.
Based on a painting by William Henry Powell, commissioned by Congress for the Rotunda of the Capitol, The Discovery of the Mississippi by De Soto A.D. 1541 was mounted in the Rotunda in 1855, where it would be viewed by thousands of visitors. Completed just a few years after the end of the Mexican-American War (1846–1848), in which the United States gained more than 500,000 square miles of territory, Powell's painting invoked American aspirations for discovery, expansion, and conquest. One newspaper art critic called the painting a "rendering on the canvass of the . . . submission of the Indian tribes, and the important part played by religion, allied with force, in the conquest of the New World."[1]
This engraving, published by Johnson, Fry & Co., appeared in 1858, three years after the original painting was mounted.
---
[1] National Intelligencer, December 20, 1853, in Henri L. Stuart, William H. Powell's Historical Picture of the Discovery of the Mississippi by De Soto, A.D. 1541 (New York: Baker, Godwin & Co., 1853).
Questions for Discussion
You are seeing this page because you are not currently logged into our website. If you would like to access this page and you are not logged in, please login or register for a gilderlehrman.org account, and then visit the link that brought you to this notice. Thanks!
Metadata
Make Gilder Lehrman your Home for History
---
Already have an account?
Please click here to login and access this page.
How to subscribe
Click here to get a free subscription if you are a K-12 educator or student, and here for more information on the Affiliate School Program, which provides even more benefits.
Otherwise, click here for information on a paid subscription for those who are not K-12 educators or students.
Make Gilder Lehrman your Home for History
---
Become an Affiliate School to have free access to the Gilder Lehrman site and all its features.
Click here to start your Affiliate School application today! You will have free access while your application is being processed.
Individual K-12 educators and students can also get a free subscription to the site by making a site account with a school-affiliated email address. Click here to do so now!
Make Gilder Lehrman your Home for History
---
Why Gilder Lehrman?
Your subscription grants you access to archives of rare historical documents, lectures by top historians, and a wealth of original historical material, while also helping to support history education in schools nationwide. Click here to see the kinds of historical resources to which you'll have access and here to read more about the Institute's educational programs.
Individual subscription: $25
Click here to sign up for an individual subscription to the Gilder Lehrman site.
Make Gilder Lehrman your Home for History
---
Upgrade your Account
We're sorry, but it looks as though you do not have access to the full Gilder Lehrman site.
All K-12 educators receive free subscriptions to the Gilder Lehrman site, and our Affiliate School members gain even more benefits!